Yes, I'm fully aware that you're fed up with examples of how complex and time-consuming plant breeding is, and how reliant it is on material in genebanks being available in perpetuity. I can hear you saying it from here: "We get it, already; move on." But it's my blog, not to mention my job, so here's another one.
You may have seen news of the identification of a gene in rice that the authors of a recent paper in PNAS think holds promise for significantly increasing yields. I won't speculate here about whether that hope will be fulfilled, or indeed whether theirs was the best strategy to follow. I just want to illustrate what it took to get to the point of being in a position to thus speculate. Here's the background, from the introduction section of the PNAS paper: it goes back over 20 years:
In 1989, a breeding program for New Plant Type (NPT) rice was launched at IRRI to increase the yields of modern indica cultivars by using genetic material from tropical japonica landraces. Several Indonesian tropical japonica landraces — which are characterized by large panicles, large leaves, a vigorous root system, thick stems, and few unproductive tillers — have been used in international breeding programs. However, despite these features, the NPT cultivars yield less than modern indica cultivars, mainly because of low grain fertility and low panicle number. To genetically dissect and elicit the valuable traits of NPT cultivars, we backcrossed the NPT cultivars … against modern indica cultivar IR64 to develop introgression lines (ILs) (Fig. S1). BC3-derived ILs, which had favorable yield-related traits and few undesirable traits, were selected by field observation. …a near-isogenic line (NIL)…, derived from tropical japonica landrace Daringan with an IR64 genetic background, had more spikelets per panicle and more branches than IR64.
Here's what that looks like, from the supplementary materials of the paper (it's that Fig. S1 mentioned in the snippet quoted above):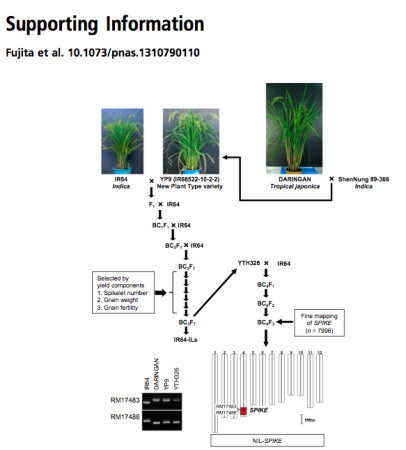 That's a lot of work. Let's recap. First there are the various plant lines that came out of the NPT project, which in themselves were the result of a lot of work. Then there was the crossing of those to IR64, and various generations of backcrossing (that's all those BCs) to end up with different plants in which different bits of the tropical japonica genome are embedded into what is mainly the IR64 indica genome. Then one of those bits of tropical japonica genome had to be found to improve IR64. That came from a particular landrace from Indonesia, called Daringan.1 Which, of course, the authors found in the IRRI genebank, though they don't actually say so, unfortunately. Phew.
Quick digression here into Genebank Database Hell. It turns out that if you look at the relevant databases at IRRI,2 you can't in fact prove to 100% certitude that the sample of Daringan used by the breeders in question in this work came from the IRRI genebank. There's a gap in the chain of data, due to the fact that by and large genebanks and breeders use different documentation systems, or used to. Everybody currently working at the genebank knows that the seeds came from them. Problem is, what happens when they go? They really need to correct the data in their documentation system, which almost uniquely at IRRI now covers both genebank accessions and breeding materials. But who wants to fund correcting data in a database? Anyone who wants to see genebanks serve breeders' needs effectively and efficiently into the far future, thats who.
Anyway. Ok, so after all that, now the gene has been isolated and it, and it only, has been inserted into one of the newer indica varieties, IRRI 146, with promising results. But wait, it's not over, because IRRI 146 is itself far from a simple thing. Here is its pedigree, courtesy of IRRI's database. You can click on it to see it better, if you dare.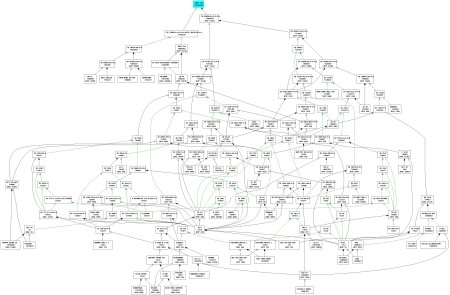 So each incremental step in breeding, each of the advances that the press likes to hype as a breakthrough, actually relies on building on all the painstaking genetic reshuffling work that came before, going back decades in many cases, with the occasional infusion of new diversity from genebanks, as in the case of Daringan. We may have this gene now, and I hope it does lead to those hoped-for increases in yield when it finally gets into farmers' fields, but you know we're going to need another one soon, and then another one.3 We always do. And we're going to get them from seed which is sitting in a genebank. We hope.
Footnotes:
In fact from a cross between that and another variety, but anyway. [↩]
And trust me, we have. [↩]
Which, incidentally, leads some to question the premise of the gene-by-gene approach, but that's another story. And one which also ends with genebanks. [↩]
{ 4 comments }